When I was a kid, I loved reading books about big messy families. Being an only child, it was a window into a life I would never have and one that I yearned for. Now I look back, I unconsciously gravitated towards friends who had big families. I loved getting to stay over at their houses and feeling like one of the kids.
I think I liked the idea of having a ready-made gang to go on adventures with. One of the families I was friends with, they had a huge garden which backed onto farmland and I remember we would just wander out into the countryside with their dog and spend the whole day exploring. It was like stepping into a novel for me!
Here are some of my favourite 'big family' (yes, it's a genre!!) books.
The "What Katy Did" series by Susan Coolidge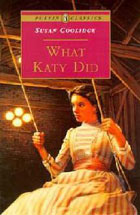 I had to google these ones. I had an idea in my head that it involved a large family but I couldn't remember exactly- and yes it does! I really adored Katy and her adventures. Despite being written in 1872, Katy was relatable and I loved the journey her character goes on.
"Seven Little Australians" by Ethel Turner
This is Katy's Australian counterpart. This story has more than a few similarities. I remember harbouring quite a crush on the older brother, Pip :) This story follows seven (Australian) children in their adventures around their house and estate wonderfully called Misrule. It is honestly such a fantastic book- but is seared into my young mind as having the most traumatic thing to ever happen in any book ever. The ending is a tearjerker to say the least. At least if you read it, you will be forewarned. Just picture little 10 year old Laura reading a cute book about children having fun, not aware that something awful will happen at the end of the book, and then BAM! Definitely a life changer!
The Lion, The Witch and The Wardrobe by CS Lewis
Whilst not a large family by the standards of the previous books, the Pevensie children do hold a special place in my heart. Unlike the other children who had adventures around their house, the Pevensie children went on adventures in another world! I spent many hours in Narnia, by reading the books and indulging in some INTENSE make-believe sessions.
The Famous Five series by Enid Blyton
I really loved these books, mainly because I saw a lot of myself in the character of George. She was an only child who got to be part of a family bunch of crime-solving kids. And she had a dog. And whilst I wasn't as much of a tomboy as her, I certainly wasn't going to be stuck doing the dishes like old Anne!
(I now really want to re-read Famous Five books and drink lashings of ginger beer whilst I do so)
Can you think of any "big family" genre books that I missed that I might like? There is one omission in my mind: Little Women. I just couldn't get into that book at ALL. The movie with Winona Ryder and Christian Bale is FANTASTIC though!